What's the story morning glory?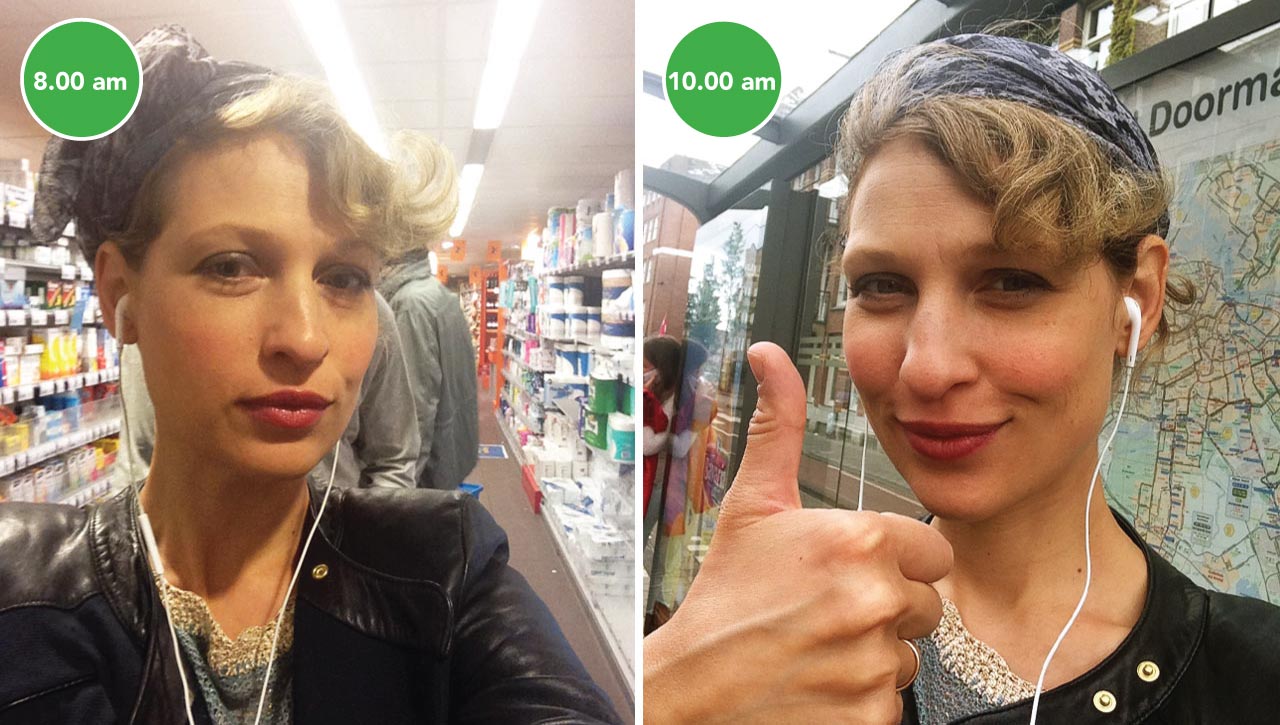 Thought you'll never see me out of the house before 9...(ok, 10am?). Wrong! There's one thing that will get me out and about this early - dancing!
I've been to my share of after-parties, so when I heard about the "Morning Gloryville" party I was a tad skeptical. Being a new mom, drugs and alcohol are not part of my life any longer... so what's the point of going to an after-party?
The point is: This is the party, not the after-party. The concept is simple: "Morning Gloryville ~ Rave your way into the day!" is an immersive morning dance experience for those who dare to challenge morning culture and start their day in style! It's a soul-shaking mission to turn clubbing upside down and transform mornings into something truly remarkable!
So.... basically, it's like going to a club on a mid-week morning without any drugs or alcohol. With me so far?
I was graciously invited to attend the party by the event organizer, Sarah-Jane Threipland. I was curious about how this event came to be. So here's a bit of history for y'all:
"Morning Gloryville (formerly named 'Morning Glory') was born when Samantha Moyo, an experienced event producer and creative, and Nico Thoemmes, a professional body-worker, came together to create an experience for London city-dwellers that would shift their perceptions of mornings, and clubbing, and increase their wellbeing.
Morning Gloryville has since evolved, and received worldwide media acclaim hailing its unique concept that demonstrably boosts the positivity, happiness and productivity of its attendees, and the community as a whole. It encourages child-like fun and wonder at events, a sense of being in one place in one time and with one purpose; to experience the morning in a totally different way.
Morning Gloryville has already launched in New York and is set to launch in Amsterdam, Barcelona, Dublin, Paris, Tokyo, West London and Zurich this summer, and in more cities across the globe by the end of the year. By the end of July it will be in 10 new cities. Over 200 people from 85 cities have been in touch, inspired to bring the all-inclusive movement to their home."
When I asked Sarah-Jane how the whole idea started, she told me:
"When I visited the London rave, I went in a bit of a grump, not being a morning person at all. Within minutes of arriving and being hugged while in the queue by a 'welcome angel,' I perked up, and then entered the hall to be hit by a wall of colour and sound, a mix of people from all walks of life enjoying dancing crazily themselves, or taking part in the more relaxed activities (yoga and massage) around the outside of the dance-floor. I left wondering if the same thing could happen in Amsterdam, and after a few friends asked me about it coming here, I decided to work with London and see how the Amsterdam experiences takes off!"
So here's my lowdown on the first Morning Gloriville:
1. What did I wear?
This was a hard one. You can of course come as you are, but knowing that most people who go there do make an effort made me want to dress up as well. Looking at the London party I broke the outfits into a few main categories:
Crazy
Sporty
PJ's and sleepwear
Office clothes
So... crazy was out of the question since I had to catch a bus to the party. My PJ's are so worn out I wouldn't inflict them on strangers (just on my poor husband). I don't work in an office, so the choice was pretty simple: sportswear.
I guess the choice of an outfit would reflect your personal view of Morning Glory. For someone it can be a great work out, or a place to chill with friends and have breakfast in your PJ's.
So this is what I wore: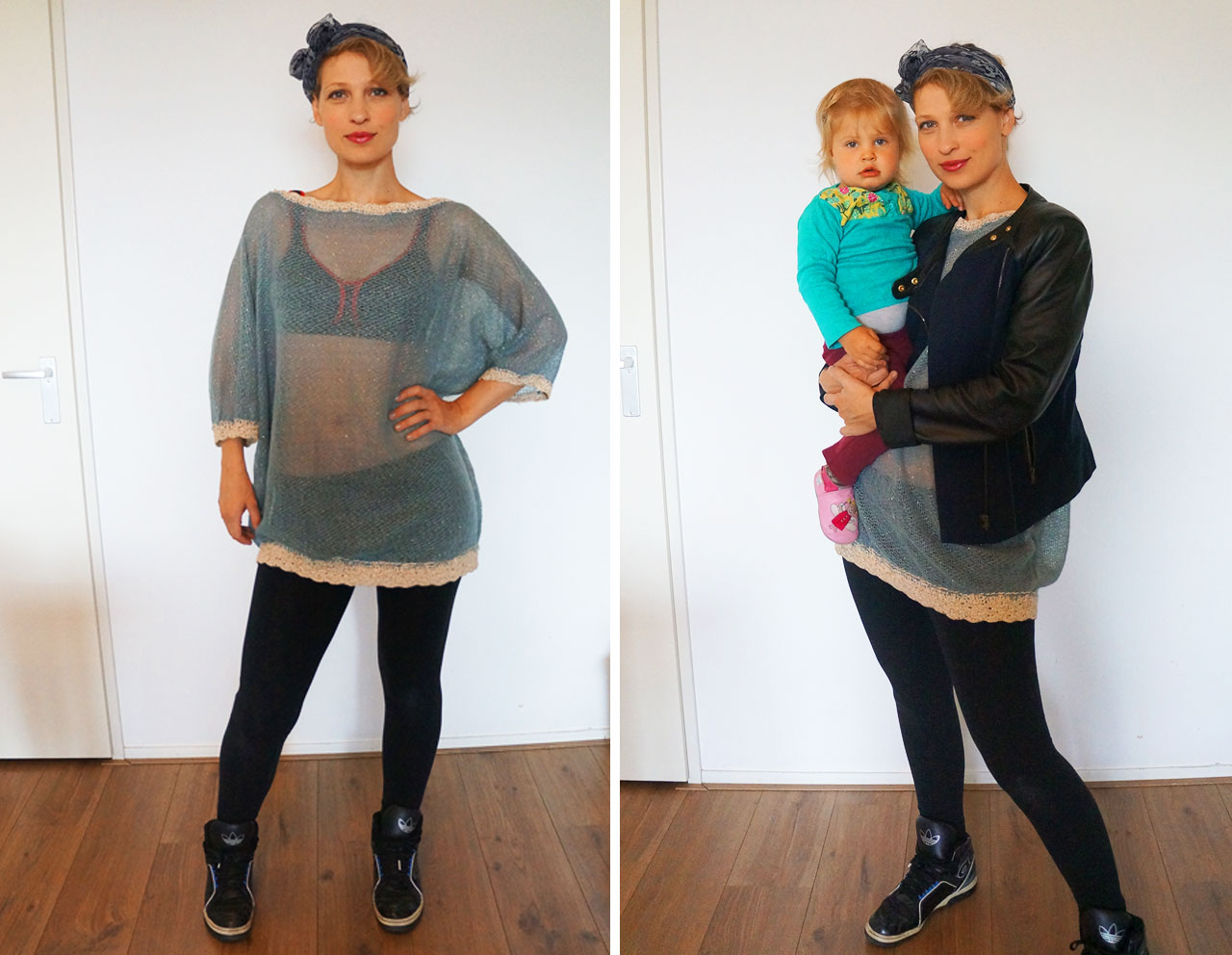 2. How was the music?
Sarah-Jane and her team organized one very cool thing: they live streamed the party online, so when I woke up I could check out the party before heading out there. I was pleasantly surprised that the music was good quality house & electro, skillfully mixing hits with lesser-known tracks. These are the DJ's that rocked my morning: Du Chatinier, Jesse Green, Rens V Mackelenbergh (rmack) & Larry Appiah (Lauwrenxe). I actually found that I've paid more attention to the music in my sober state. If I didn't like one song - I just sat it out.

Photo by Francine Nagata
3. Is it just dancing?
No. The party started with yoga (which I missed ;). Then the yoga peops moved next to the dancing area but kept going pretty much till the end. There was also face painting, massage and some sort of holistic crystal healing available free of charge... which is always nice. Sarah-Jane told me that they have a lot of surprises planed for the future parties, such as guest artists and such. I like the idea of being surprised each time; I miss that at the conventional clubs.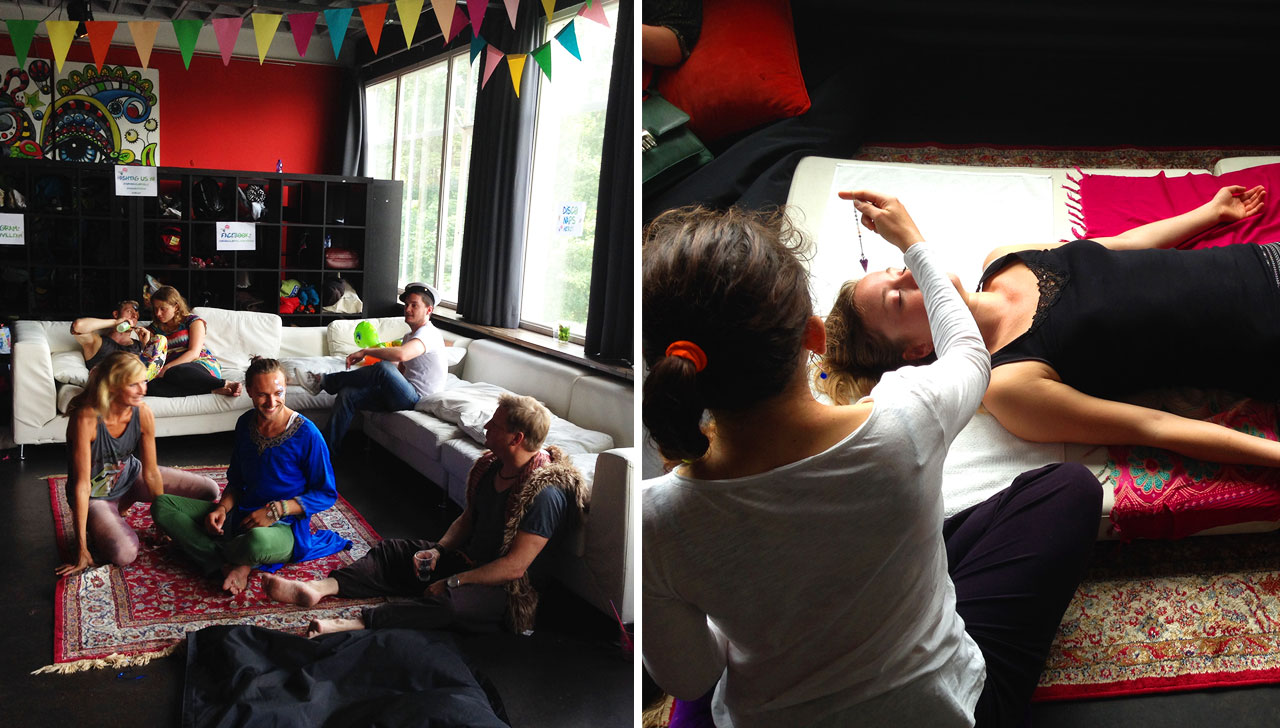 4. No alcohol... So what are we drinking then?
Honestly... this was the cheapest outing for me yet! I just bought mineral water. I ate my breakfast at home, but there where a lot of yummy things on offer, such as smoothies bar and a breakfast cafe. The cafe was tucked away in the back of the club so it took me a while to find it. Don't miss it!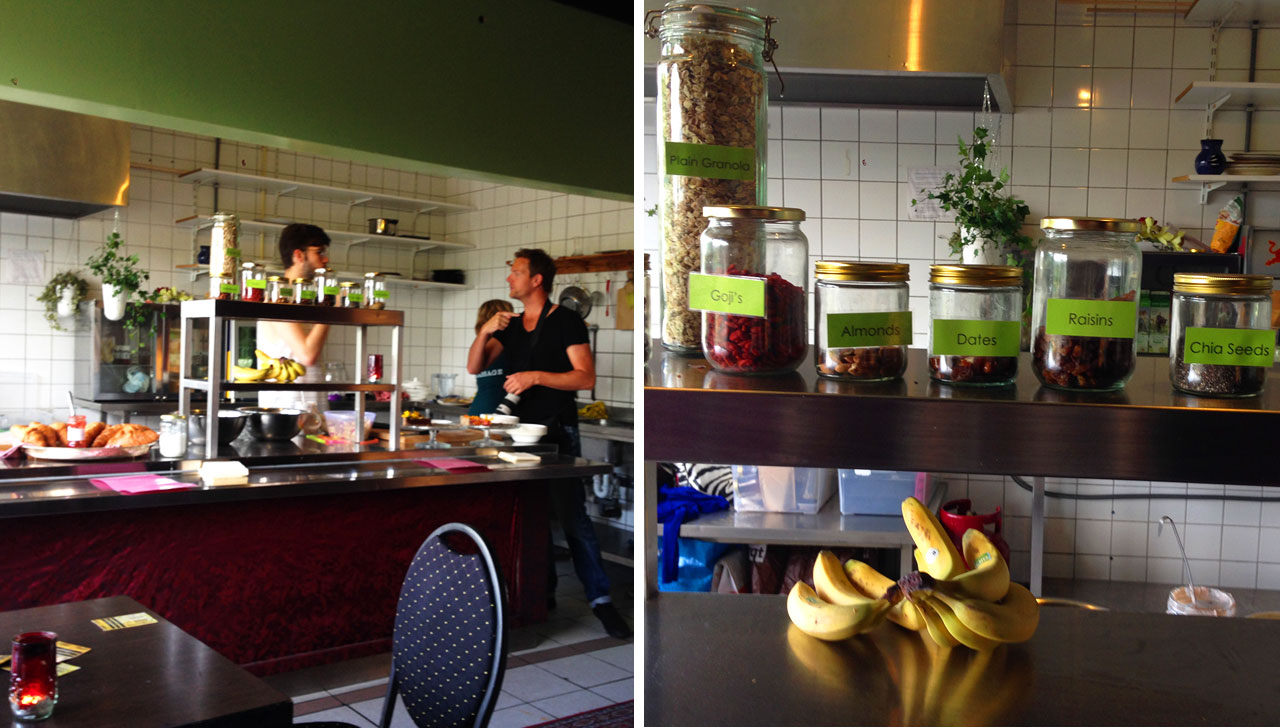 4b. So how was it to party without alcohol or drugs?
First 5-10 min where hard... Part of the club was totally light and it felt weird to just dance. But after these initial minutes I actually really liked it. I could dance by myself and no one came to hump me from behind. No guy tried to hit on me while slurring his words. When someone bend down I didn't think: "oh no, he's feelling sick", I thought: "mmm, this yoga pose looks nice!". If the music was bad - a sat it out, if a conversation was dull - I left it. I knew what was happening around me - and I liked it.
5. Who did I go with?
Alone... really, that turned out to be the best decision ever. I was planning to go with a friend, but it didn't happen. I'm glad that I went alone. It was almost therapeutic to enter a room full of people and just to let go and dance. I don't think my friends would ever judge me, but I think they would, and that might make me more self-conscious. I'm planning to bring my husband to the next one. But honestly though, if no one wants to ever come with me - it's fine, I've had so much fun by myself that I can see this becoming my guilty, once-monthly pleasure.
6. Who is this for, anyway?
It was a very mixed crowd. Mostly 25-35 years old, but also a lovely 72 year old lady, who was last on the dancefloor. There where some young mammas with their babies (kids need proper ear protection & kids under 7 go free). I found the main dance area to be a bit "basey" for my 20 month old baby even with the ear muffs, but other parts of the club where less loud. Overall the atmosphere was really relaxed and kid-friendly.
7. Anything I didn't like?
... Not ""didn't like" exactly... more of an observation. With parties like this there are expectations and not all of them are positive. You expect it to be "hippy" heavy, all "rainbows and unicorns" and it does look like that at first, just as you enter the room. But when your eyes adjust to sparkly leggings and tutu dresses you see the "normal" folk, just like you and me. I saw the loveliest woman in suit and red heels, totally dress for the day ahead in an office, dance all morning. She really put a smile on my face. My hope for the future of these parties is that as more and more people from different walks of like attend them, the more rich and unexpected they'll become.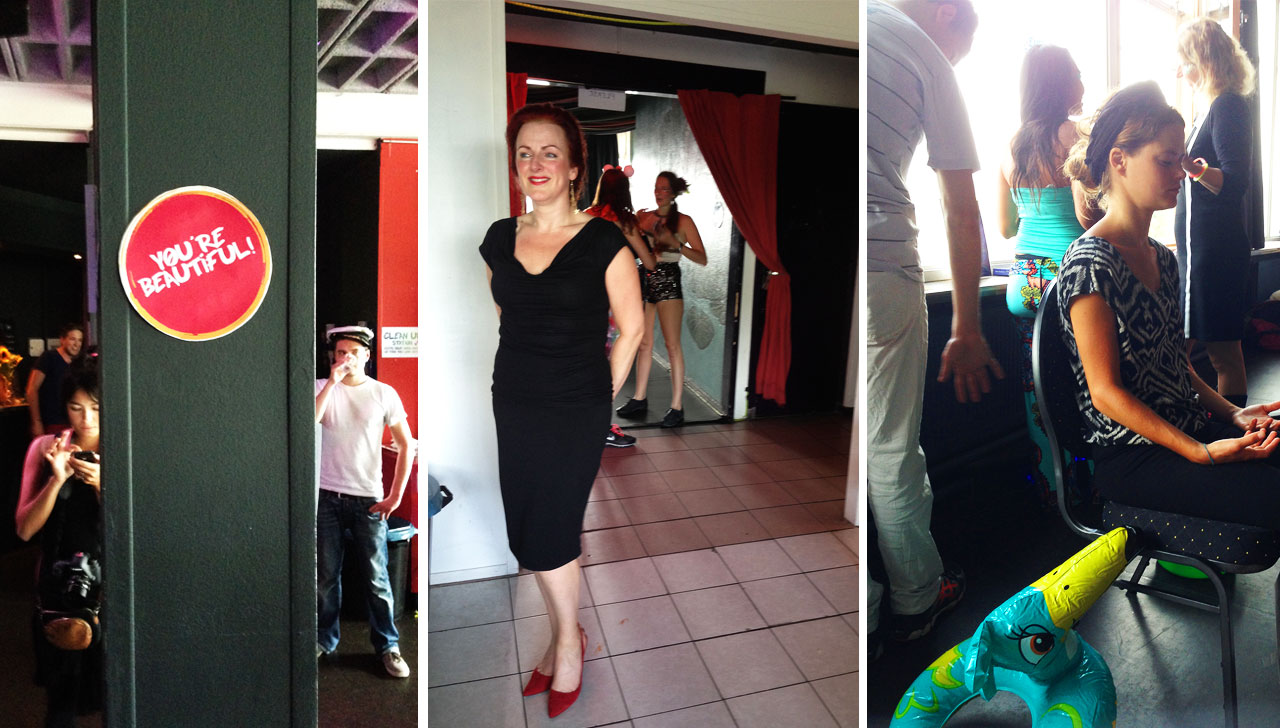 This year, during my experiment, I will continue to search for anything new, "out of the box" and unexpected happening in my city. This experiment is not just to learn how to live without shopping but to expand my horizons, see what my neighborhood has to offer and to meet people who do things just a little bit different. See you at the next Gloriville?
The next event is on July 30th (then end of the month monthly after that) at club Lite, Jan van Galenstraat 24, Amsterdam, The Netherlands.