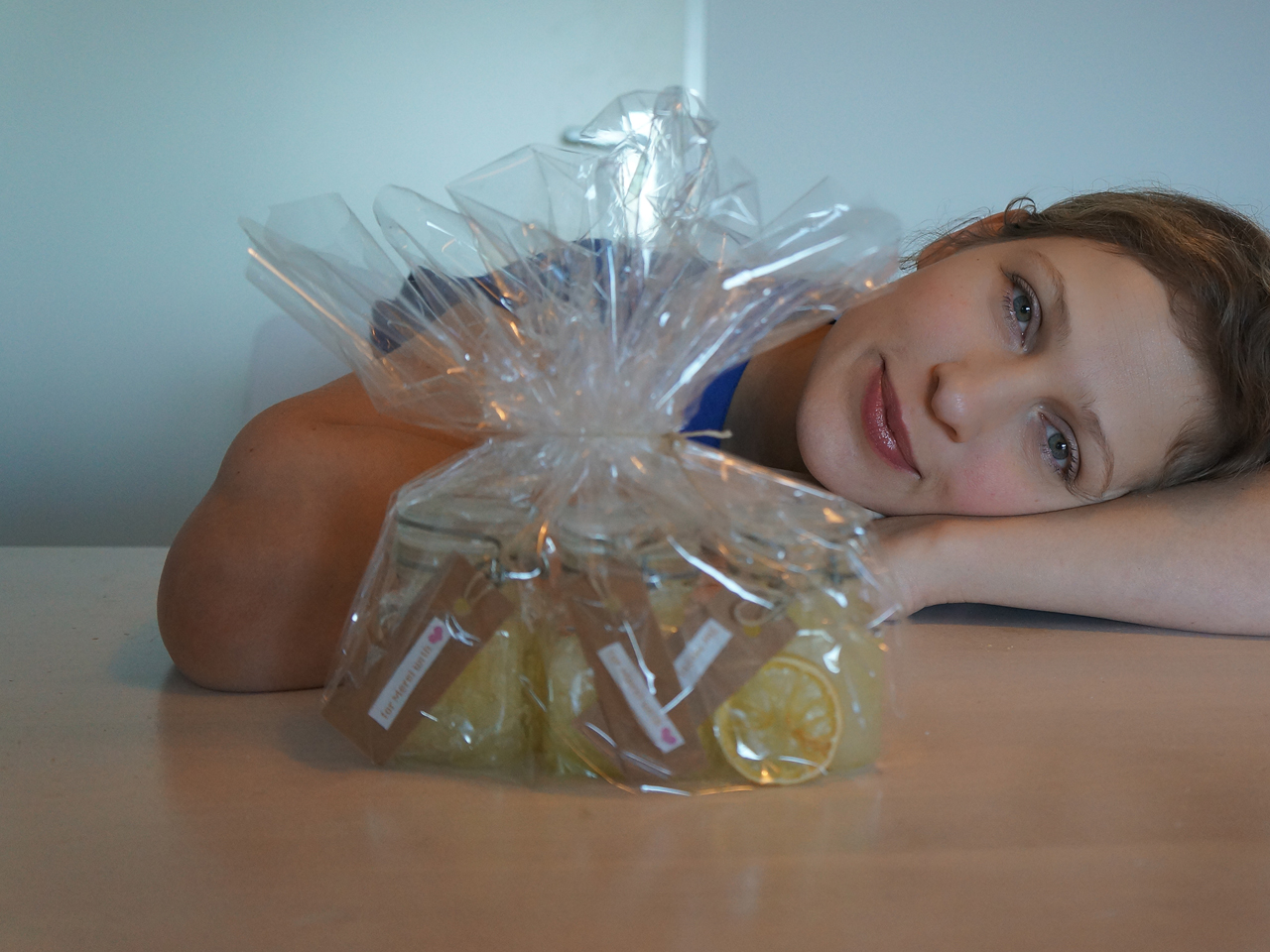 So... I was invited by my lovely friend Merel to the first birthday party of the year. Normally (and I'm ashamed of it), I'd buy something on the way to the party and not even make a separate trip to the city for the present. I love my friends dearly... I'm just lazy. So this time, instead of a usual trip to the "Body Shop" or "Rituals", I've made:
3 x DIY Lemon Body Scrubs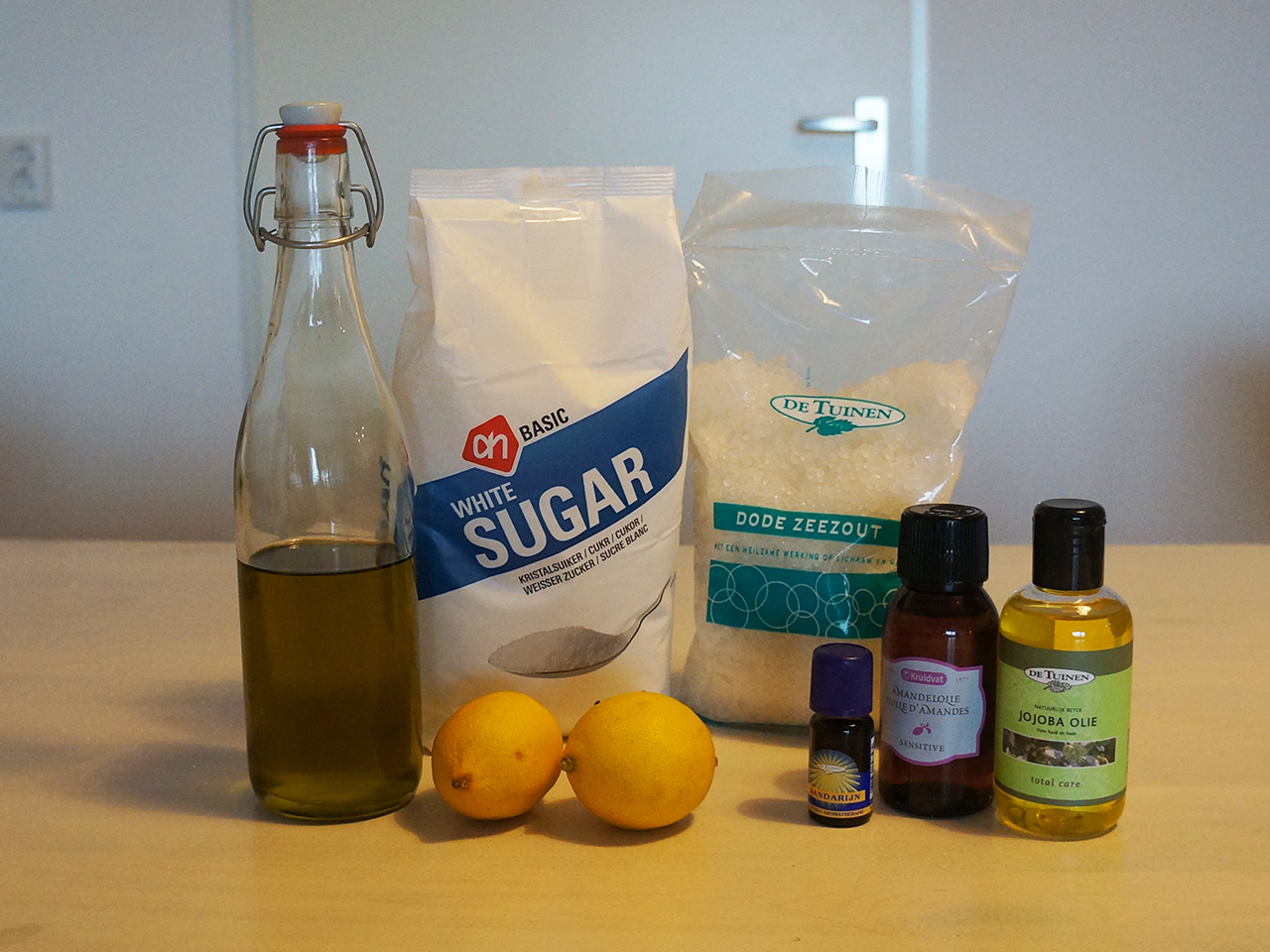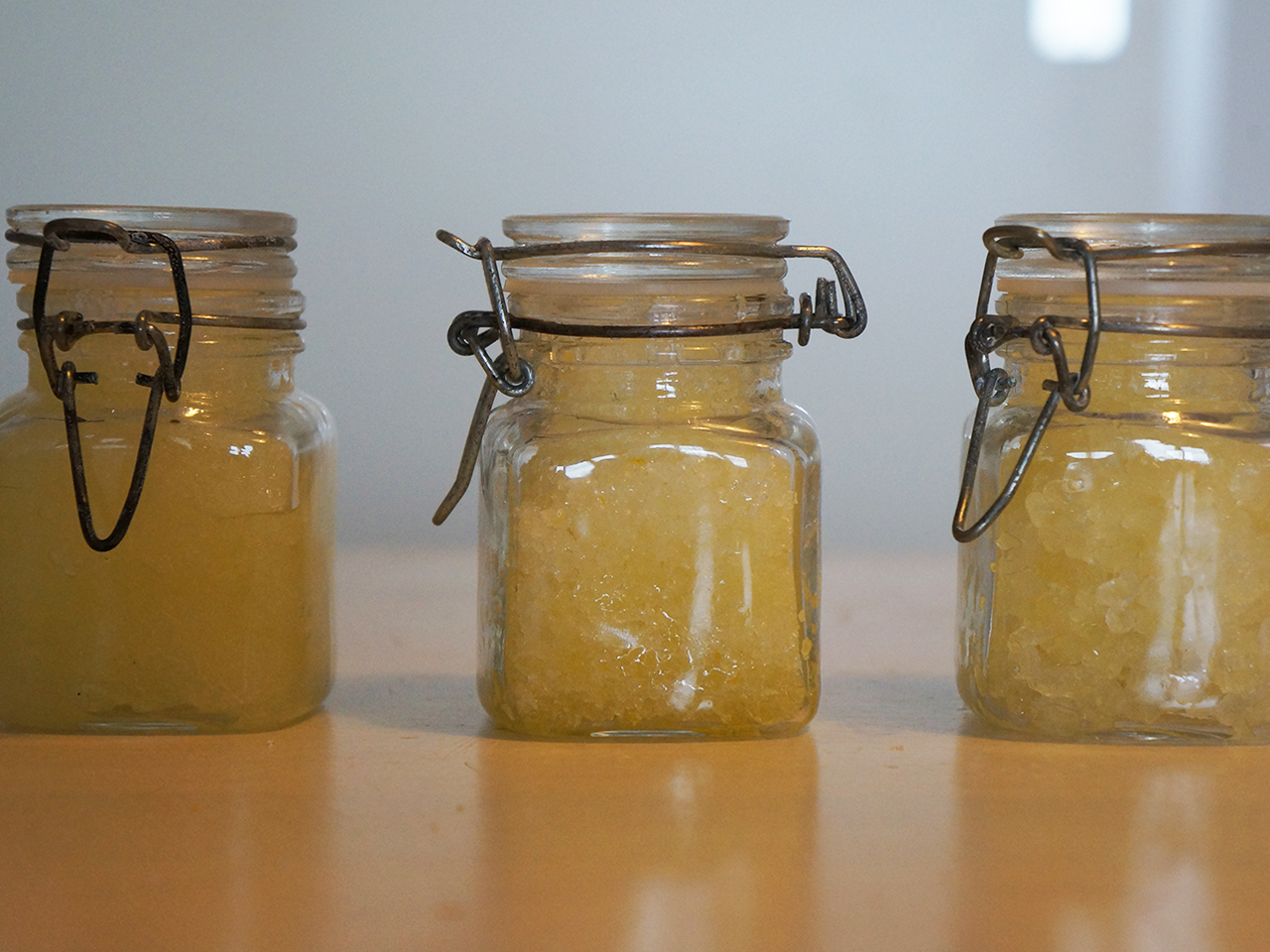 I went to the local natural shop to stock up on the ingredients. They were all easy to find. I think in time I'll build a stock of ingredients at home so making products will take even less time. I've already cleared up a shelf in a kitchen to pile on my natural ingredients :)
All the scrubs make use of the same concept, but different ingredients, I'll list all the recipes below. The important order is first to mix the oil with salt or sugar (which coats the salt so the other ingredients won't melt it) and then to add the rest of the stuff.
The steps are:
Mix salt or sugar with oil
Add other ingredients
Add essential oils if required
Test on husband ;)
Pour into sterilised jars (put them into a pot with boiling water and keep the lid on the pot, 'till water cools down. Let the pots air dry overnight)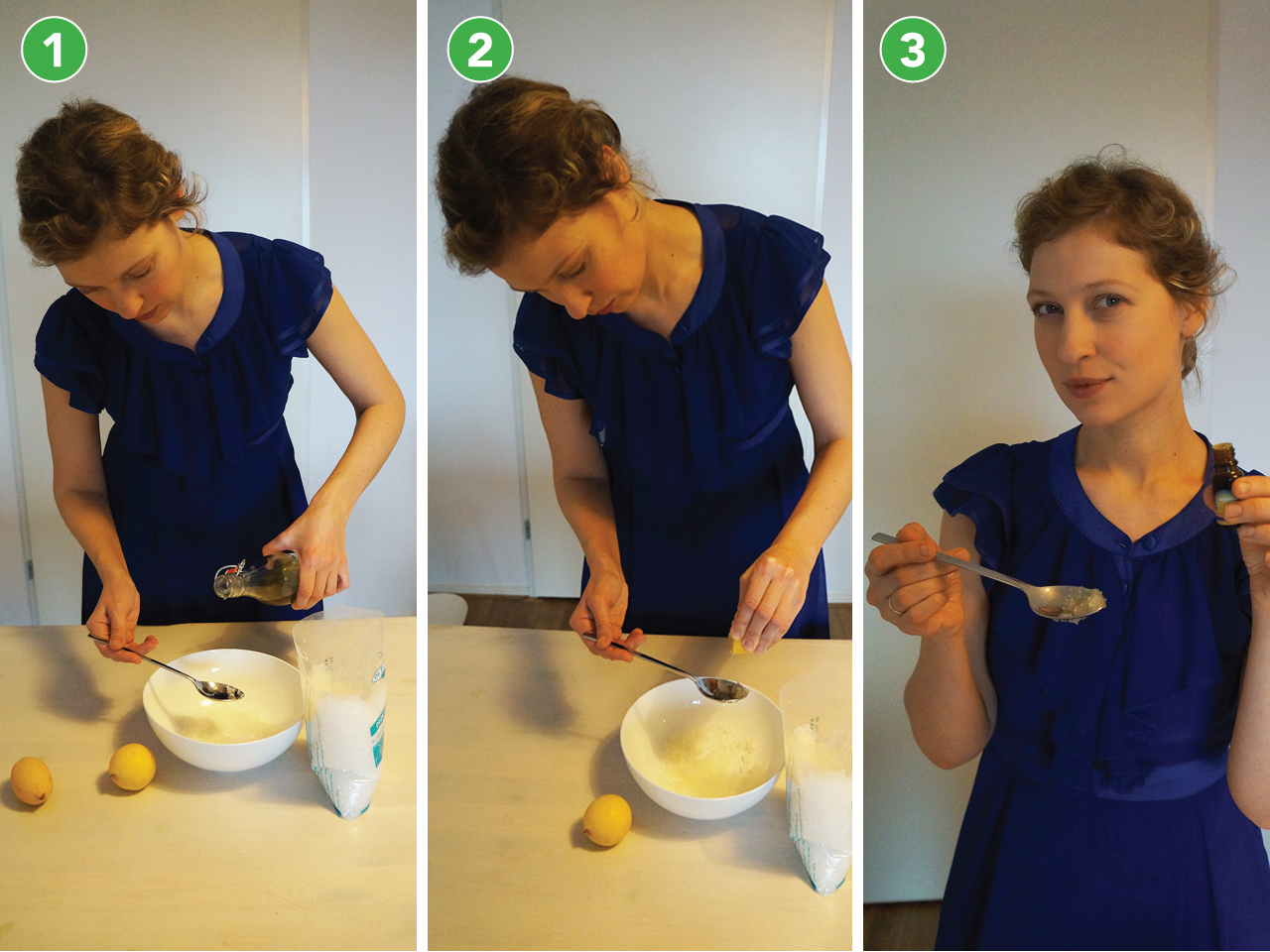 1. Dead Sea Bath Salt with Olive Oil & Lemon
The waters from the Dead Sea are unique in that they contain 27% of various salts as compared to 3% in normal sea water. Further, while sodium accounts for approximately 80% of the salt content of normal sea water, it comprises much less of the salt total in water from the Dead Sea. The balance of the salts in Dead Sea water are magnesium, potassium, calcium chloride and bromides. To make it short, its good stuff!
Ingredients
5 t/l spoons Dead Sea Salt (3.24 euro per bag, used about 0.20 euro)
1 t/l spoon Good Olive Oil (about 7.00 euro per bottle, used 0.30 euro)
Lemon juice (from 1 lemon, about 0.10 euro, used in some way in all 3 pots)
1 drop mandarin essential oil (bottle costs 6.99, used about 0.05 euro)
2. Sugar Scrub with Jojoba and Olive Oil
Jojoba oil is an amazing, versatile substance. Jojoba oil is especially well suited for treating skin problems, likely because of its similarity to the sebum that occurs naturally in our own skin. Jojoba oil aids in the healing of sunburn, chapped skin and other skin ailments. Jojoba oil helps the healing of wounds and may help lessen the appearance of other skin lesions such as stretch marks.
Ingredients
5 tbl spoons Sugar (1.34 euro per bag, used about 0.05 euro of sugar for 2 jars)
1 tbl spoon Jojoba Oil (9.99 euro per bottle, used 1.00 euro)
1 tbl spoon Good Olive Oil (about 7.00 euro per bottle, used 0.30 euro)
Lemon zest (from 1 lemon)
1 drop mandarin essential oil (bottle costs 6.99, used about 0.05 euro)
3. Sugar Scrub with Almond and Olive Oil & Lemon
Almond oil is a rich source of Vitamins A, B and E which are great for your skin's health. Pick up any expensive skin care product and I am sure they will claim to have these Vitamins as ingredients.
The biggest reason to use almond oil instead of these chemical-laden products is the fact that it is really mild on your skin and suits all skin types. It helps in maintaining the moisture levels of your skin and gets absorbed in a jiffy without blocking your pores which we all know is one of the most common reasons behind a number of skin problems. It particularly helps if you have extremely dry or sensitive and irritated skin.
Lemon contains vitamin C, citric acid, B vitamins, carbohydrates and a small amount of protein. Lemon juice may aid in diminishing the appearance of scars and age spots. It may also reduce the appearance of scars left behind from acne lesions.
Ingredients
5 tbl spoons Sugar
1 tbl spoon Almond Oil (7.99 euro per bottle, used 0.50 euro)
1 tbl spoon Good Olive Oil (about 7.00 euro per bottle, used 0.30 euro)
Lemon juice
Total Price:
Ingredients: 2.85 euro
Jars: 3.00 euro
Packaging: 0.10 euro
Total: 5,95 euro
Not only was this present cheaper, I actually had fun making it, had some left over scrub to use for myself, learned a lot and enjoyed the fact that now I can eat my bath products, I know what are they made of.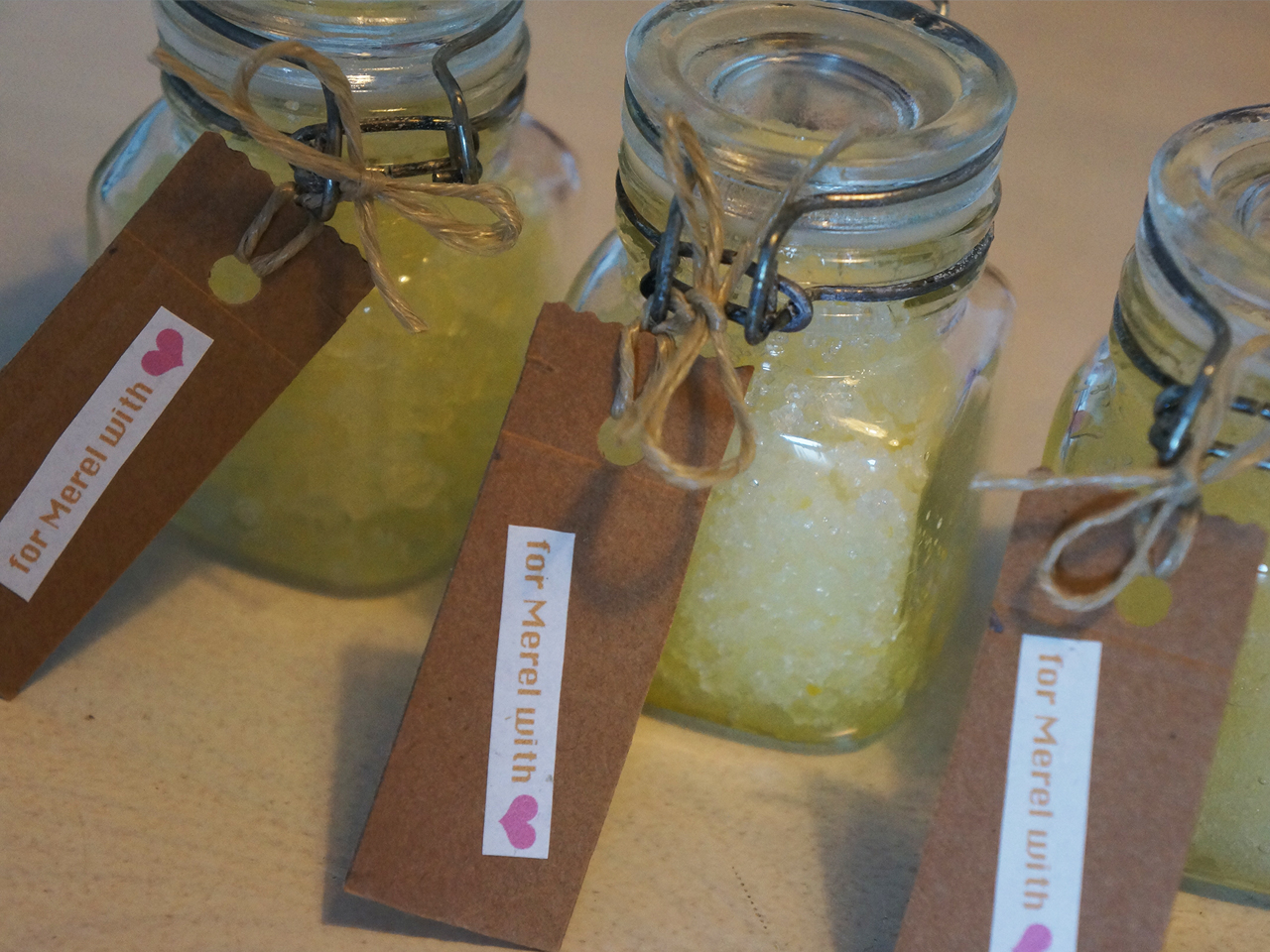 Now... I didn't stop here. I've made the dried lemons for packaging myself as well :)
Very simple. Cut lemons thinly, lay them on a baking paper in an oven on the lowest setting for an hour. My oven (lowest setting was 100c) was too hot so I had to keep it on for 10 min and then turn it off and let it cool down. I've done that over about hours. I've burned the first batch, lemons darken very easy if the temperature is too high!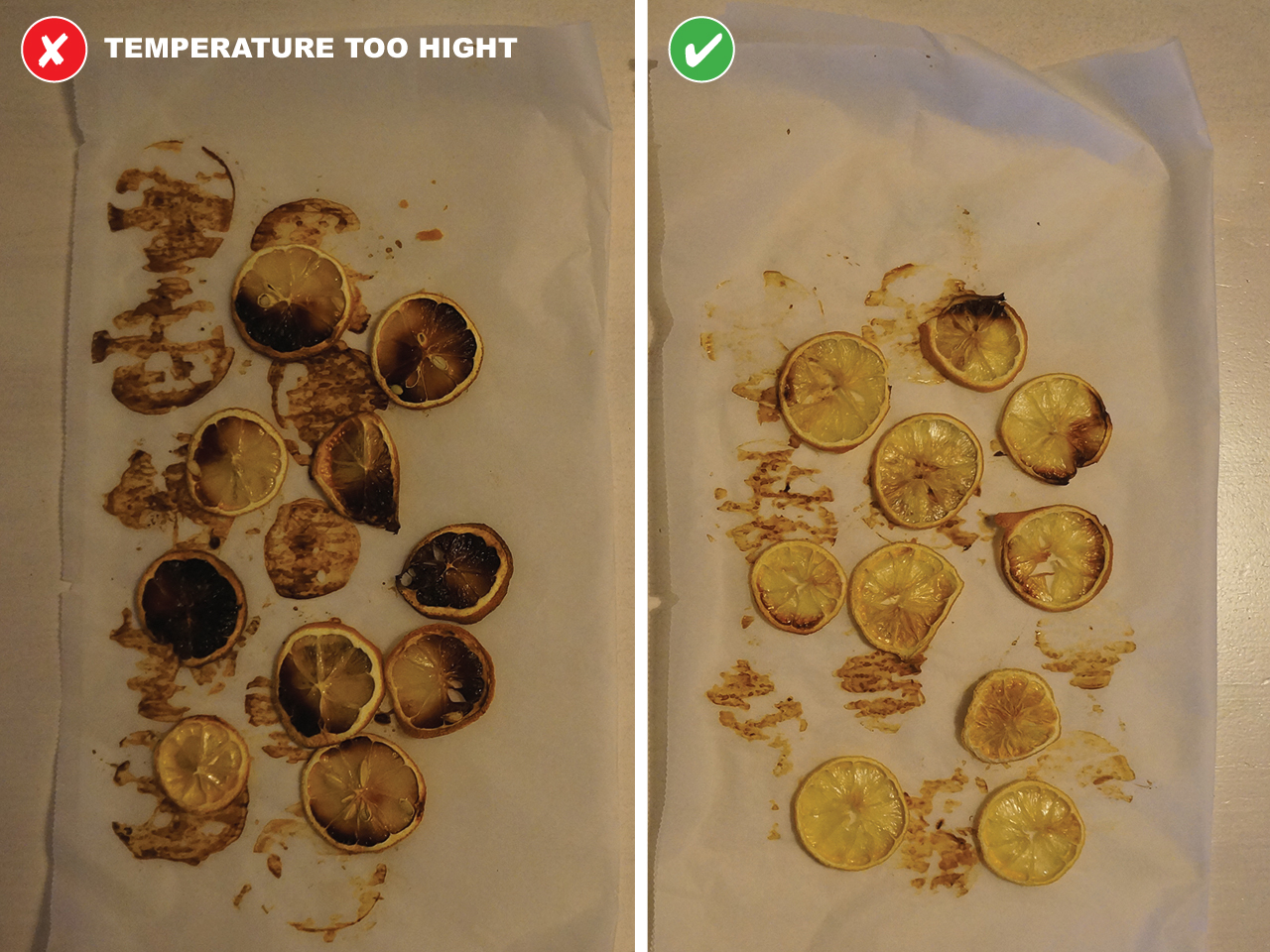 That's it. Merel has promised me to report back with suggestions. Husband asked if he can use the scrubs again today... Result!