IJ-Hallen... the best flea-market in Amsterdam!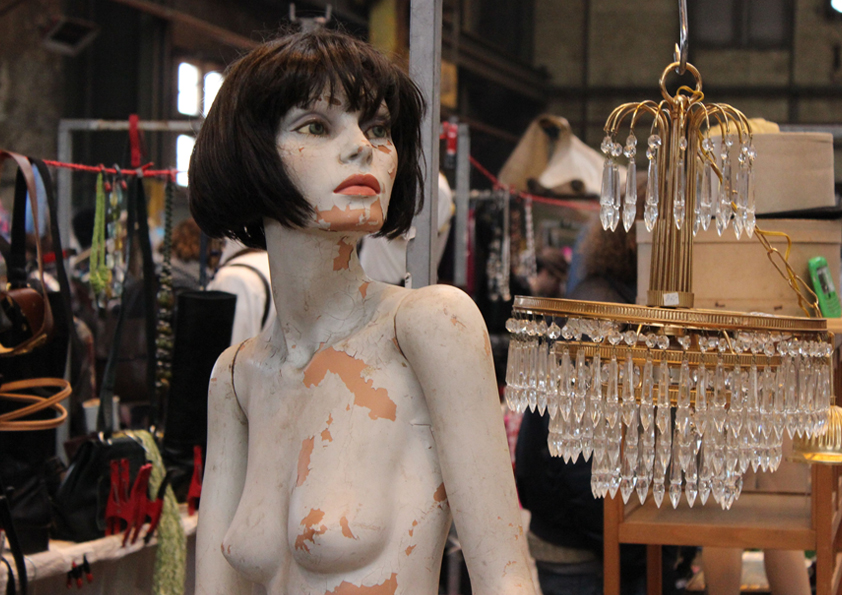 Photo: horseshoenail.org/author/natalie/
We all crave new stuff, new clothes, new furniture… but then again, we all have old things, old clothes and furniture. So how do we replace old with the new? Sure, we can just keep on buying and accumulating stuff in our caves, lovingly walking around all our possessions, proudly showing them off to our friends and family. But then a time comes when we simply have too much stuff, when it doesn't only consumes physical space in our homes, but clutters our minds as well…
In this article I wanted to explore an option of selling our old stuff. The best place to do it in person in Amsterdam (not online) is the IJ-hallen flea market. The flea market takes its name from the massive halls it occupies, once a part of the NDSM shipyard in Amsterdam-North. To get there just take one of the free, frequent ferries that shuttle visitors back and forth over the river. The ride is just 15 minutes, and the views of the IJ River and the architecture on its banks is worth the trip itself. You will find almost everything at the IJ-hallen, and for such bargain prices. Don't forget to take some cash with you, as they don't accept cards and there aren't any ATM machines nearby. Prices range from 1 to 5 euros with some things being a little more expensive. This is a place where you must have patience to really walk around, look for the hidden treasures and pay a ridiculously good price for it. There is an entry fee: 5 euro per adult and 2 per child.
I went there on a cold, windy Saturday to see my dear friend Andrey attempting to sell his old clothes for the first time.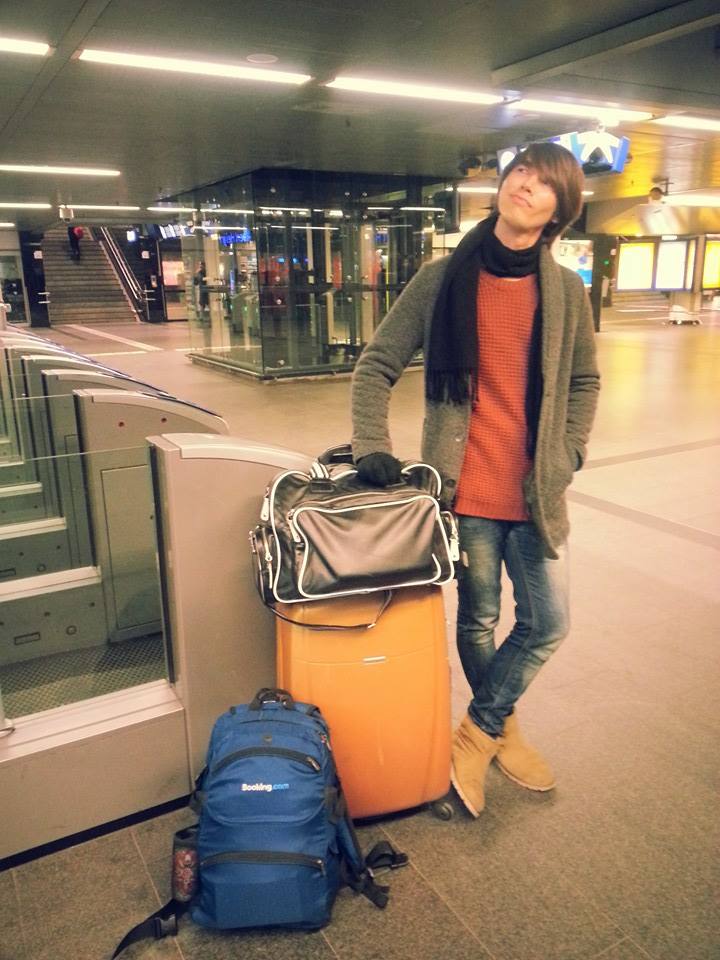 Here is Andrey's experience:
How did you get the idea to sell at the market?:
Over a couple of past years I had collected a few plastic bags full of items of clothing that I thought I'd hardly ever have on again because they were either simply out of fashion or I did not particularly like them. I realized that at a certain point it became a burden, both mentally and physically, because those bags occupied a lot space in the cellar… and on my mind. I got to know about this market from a friend of mine, I googled it and watched a couple of videos online, I got inspired and found it a brilliant idea to get rid of my old clothes and... earn on it.
How did the sign up process to sell worked? Was it easy? What did you have to do?
I attempted to rent a stall a couple of times online, but oh man, they are selling like hot pies. They were all fully booked within a couple of days after they went available online. Finally I managed to get a 4-meter long stall, which I found a bit too big for myself alone, that is why I also invited one of my friends to join. You just pay online for a stall (prices vary depending on a size) and a small deposit, which is returned to you at the end of the sales day provided that the place was left neat. A few days before "the big day" you get a letter by post specifying the house rules and indicating the place where you actually will stand.
Who did you go with?:
A friend of mine, who shared the spirit of excitement with me.
What kind of items did you sell?:
Well, you can literally sell there everything, and people will buy it. The only condition is that you are allowed to sell used or second hand items. So I brought everything from worn T-shirts to hoodies, from ties with a spider print to fancy coats. Every item will catch an eye of a certain type of customer there.
Was the day successful? Did you manage to sell everything you wanted?
Definitely, I sold almost everything, and I started with a huge pile of things. When one of the customers just bought wholesale, 6 pairs of jeans and 3 shirts, I was on cloud #9 from happiness. Most of the items were gone by midday.
Was it a fun day for you?
Absolutely, it was my first experience and I totally loved it. You learn a lot about customer behavior, your more experienced neighbors give you tips on how to arrange items and make them look more presentable, you have a nice conversation with your friend (whenever you manage to have a spare moment) over a cup of hot chocolate, which together with other drinks you can buy right on spot.
You also notice how customers change throughout a day. There are early birds who already stand at the door at 8 a.m. with large trolleys who are looking for best bargains or items for the whole family (so yes, come early if you'd like to have a big choice), towards midday the market is flooded with hipsters who are ready to fight if they see an item that appeals to them and will make them again and again stand out in the crowd.
Would you do it again?
Already planning my summer revisiting.
---
As for my experience, as a visitor, I have to say that it was cold. So cold, that I found it hard to concentrate on actual shopping and to take my coat off to try on the clothes. I will definitely go next time (when it's much warmer) to explore this vast market again.
The market is usually held on the first weekend of each month, but check the web site for exact dates and times.